IMPT - AI Tokenomics Limited
Opportunity details
Type
Business opportunity

Cash Required

The cash required is the amount of cash you have available or that you can access without referring to a traditional loan (family loans, stock, retirement plans, etc).

Total Investment

The total investment is the total expected spending amount to start their business. This includes the franchise fee and other spending fees such as real estate, staffing, and supplies.

Depends on the country or area
Native Country
Ireland

Available Locations

The available locations for franchising are the territories or regions the franchisor is looking to develop.

Gulf Area
| | |
| --- | --- |
| Total Units (Worldwide) | 6 |
| Year Founded | 2021 |
IMPT - AI Tokenomics Limited
IMPT is a company committed to the environment, with the objective of supporting and financing environmental projects, which must be accredited by internationally recognized regulatory bodies. The projects include clean energy generation plants, forest conservation, wind farms, and other solutions.
How does their program work?
IMPT has thousands of associated businesses and brands that allow registered users on IMPT to make purchases at these associated businesses. For every purchase a user makes through IMPT, a "Carbon Credit" is generated, which will be used to finance sustainable projects.
Among the businesses and brands associated with IMPT is Amazon. If a user registers on IMPT (it's free) and goes to Amazon through the IMPT website, they will receive a reward of 3% of their purchases in "Carbon Credits." These credits will be associated with the user's IMPT account, where they can view different sustainable projects and finance the ones they find most appealing.


Become the Country Partner
IMPT is looking for an entrepreneur who wants to become the Country Partner. It is an investment that is not only attractive in economic terms but also involves getting involved in an environmentally committed business.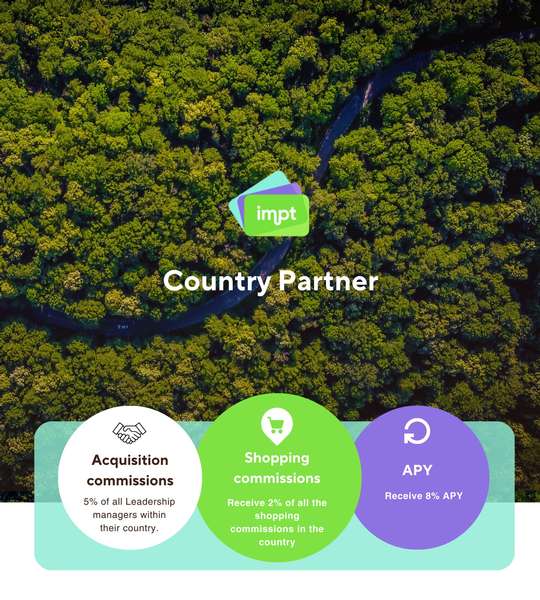 What characteristics and skills should the Country Partner have?
* Leadership and management.
* Marketing and negotiation.
* Sustainability and environmental awareness.
* Networking and relationship building.
* Financial and analytical skills.
What are the main functions of the Country Partner?
* Develop the IMPT planet's loyalty programme.
* Add businesses and enterprises from different sectors to the IMPT network and associate them with the program.
* Develop a network of collaborators.
What are the economic benefits?
* The Country Partner receives 2% of all shopping margin in the country.
* 5% of all leadership agreements: The Country Partner receives 5% of the total value of all leadership agreements made within their country.
* Merchandise: The Country Partner receives 5% of the merchandise sold in the country.
How does IMPT support a Country Partner?
We are committed to supporting our Country Partners every step of the way. Here is an overview of the support you can expect from IMPT Planet:
* Full training end to end
* Access to our administration systems
* Documentation
* Email domain
* Rollout methods
* IMPT marketing
* Access to our marketing executives
* Internal legal teams
* Existing partners
What investment is required to be the Country Partner?
The required investment depends on the area or country size and gdp. Twenty percent (20%) consists of management fees, and you retain full control of the remaining eighty percent (80%) of your investment, which is locked for 2 years at an 8% annual percentage yield (APY).
For Country owners: Starting from $50,000 to $150,000 — depending on the area or country.
For the area: Starting from $5,000 to $20,000 — depending on the area or country.
We are looking for all our country owners to grow with us and our brand develops globally.